We host many other courses throughout the year (details can be found on our homepage) but here's an extra special course created by us just for you.

Organic Harvest Retreat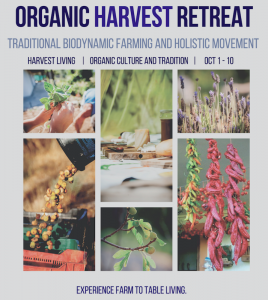 Whats it about
Daily movement and yoga classes to support your body
Daily harvest of produce
Daily workshops on preserving, making traditional foods
 Whats Included
3 delicious meals are included in the course price, lots of organic produce from our farm supplemented from other local farms for dairy etc. Meals are mostly vegetarian always with a fully veg option when meat is served.
We have a beautiful covered terrace overlooking the swimming pool for meals outdoors and the "Museo" with a fireplace for eating in. The Museo features a collection and display of traditional farming equipment and remnants of daily life in the past.
Daily plan
7:00-8:00 movement
8:00-8:30 light-breakfast
8:30-10:00 fieldwork
10:00-10:45 second-breakfast
11:00-1:00 feildwork
1:00-3:00 lunch-break
3:00-5:00 workshop
5:30-6:30 movement
7:00 dinner
Course plan
Day 1
Arrival, Welcome gathering, Dinner, yoga/massage class
Day 2
Almonds/Walnuts- picking, The Cortijo has 9 varieties of almonds, some of our trees more than 50-100yrs old—we will pound the trees with rubber mallets to catch the nuts bellow in a giant net and fill our buckets with almonds, see how the outer shell is removed to reveal the almond shell
In the afternoon workshop we will be learning about making almond milk, soup, flour for bread and other baked goodies
Day 3
All about Figs – Picking season will have ended but there is sorting to be done. Did you know drip figs are not simply fresh figs that have been dried but they are a different variety that dry on the tree?
Over 1500-2000KILOS of figs are harvested each year on the farm. Once they have been picked they must be sorted for quality (some with holes/insects go to our animals 1st,2nd Y 3rd Quality and sorted accordingly and sold.
We will hold onto some Grade A for making sweets, bread, etc. In the afternoon
Day 4
Olives-pruning/prepping—picking eating olives. The olives to be picked for pressing(oil) are not harvest until November to December but for table olives(eating) October is the time
Learn to marinade and preserve olives, make tapenade(and of course we will have lots of first cold pressed extra virgin olive oil from the previous years harvest:)
Day 5
Take a Hike—Prepare bee houses and see where the honey is made; Andalucía is home to some natural park 2000 catalog varieties of wild herbs and flowers. Our guide will lead you through the canyons and valleys to a local goat farm where we get our cheese and yogurt, breathtaking vies of the Alpujarras all along the way.
Day 6
Rest, Relax, Recharge
Day 7
Jars, Jars , Jars – Preserves, Jams, salsa, pickling/peppers
Learn how to preserve anything
Day 8
Grapes/Wine —we have over 300 vines growing on our property, and 15 varieties of grapes, most were planted by Joaquin´s grandfather about 70 years ago. Learn to make wine—-picking/stomping—enough said—yes bare feet and all:)
Day 9
Basic Landscaping, learn to prune and shape trees, planting winter vegetables, gathering firewood
Day 10
Last practice, Breakfast, Departure
We have two options for you to be part of this amazing organic culture:
*Learn & Play at the farm:
Be free to join any activity at anytime.
Price
Camping 1000 Euro
Shared Accom 1200 Euro
* Learn & Work at the farm:
This is a great opportunity to connect with the place and deepen your learning.
The fieldwork at 8:30 am is mandatory, with an extra hour of help in the kitchen or setting up the workshop. It's a total of 5 – 6 hours of work every day.
You will have free time to join the movement classes.
Price
Camping 500 Euro
Shared Accom 600Euro
With any of the two options you will be able to bring home some of the products that we will be making.