We host many other courses throughout the year (details can be found on our homepage) but here's an extra special course created by us just for you.

Cross Generational Movement & Harvest Retreat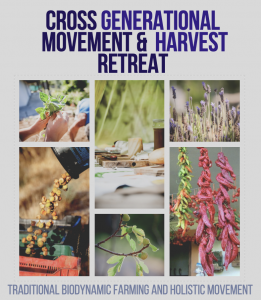 Whats it about
The key to longevity is movement and a wholesome diet. Join us for a retreat in Spain that will inspire you and leave you with tools to stay fit.
Come experience holistic movement with organic farm to table living.
This unique experience has something for everybody. Seniors and young adults will enjoy the array of multiple daily movement classes offered.
**Move with more ease & less pain. Reprogram old movement patterns that aren't serving you.**
There are many activities to take part in on the farm, planting/pruning, harvesting almonds and figs or helping process the harvest by making jams and nut butters. Also there are plenty of opportunities to help and learn in the kitchen.
Afternoons will have an intro to acro class suitable for absolute beginners and a lower intensity movement option.
This is the ideal place for families to have a nourishing holiday together, connect with each other & themselves through movement & nature & leave feeling fit, healthy and more mobile 🙂
Price
Accommodation and all food is included in the price
Sliding scale of "pay what you can" is offered so that more people of different socioeconomic backgrounds can join
Shared room 750-1250Euro
Camping 600-900Euro
*contact us for the availability of private rooms
Lots of organic produce from our farm supplemented from other local farms for dairy etc. Meals are sometimes vegetarian always with a fully veg option when meat is served.
We have a beautiful covered terrace overlooking the swimming pool for meals outdoors and the "Museo" with a fireplace for eating in. The Museo features a collection and display of traditional farming equipment and remnants of daily life in the past.
Sample schedule
8:00-9:00 . Gentle Mobility
9:00. Breakfast
11:00-1:00. Basics of Strength
1:00-3:00. Lunch
3:30-5:30. Beginners Acro
5:30-6:30. Movement
8:00- 9:00. Therapeutics/Breath work
Get in touch with us to find out when our next Cross Generational Movement & Harvest Retreat will run!